Psychogate will be happening this
Saturday at Qualcomm Stadium for
the Holiday Bowl against Nebraska!
Qualcomm parking lots open at 11am so we will meet at 9:30am at the Costco at 2345 Fenton Marketplace Driveway San Diego, CA 92108. This is half a mile from Qualcomm Stadium. We will caravan from Costco to Qualcomm and then all park together to stake out our area. Do not plan on doing any shopping at Costco because they open at 9:30 so we will not have time for shopping. Costco is for meeting only, not shopping.
If you need to do any last minute tailgate shopping before we meet, I recommend going to Ralphs at 5680 Mission Center Road San Diego, CA 92108. Ralphs is about a mile away from Costco. Give yourself enough time to get to Costco by 9:30.
Here is a map of the proposed route (A=Ralphs, B=Costco, C=Qualcomm):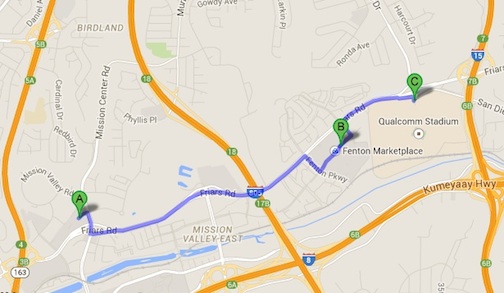 Psychogate is joining forces with Steve Thorne (@SteveThorne2) who hosts his own giant tailgate by the Coliseum every Saturday. Steve is bringing a ton of great tailgate gear including satellite TV and a massive 8' grill that we are free to use so feel free to bring anything you'd like to throw on the grill. Steve is bringing steaks and shrimp for his crew. Do not eat his steaks and shrimp!
Please do not come to the tailgate empty handed! Steve is welcoming Psychogate so let's return the hospitality. Please bring something to share other than alcohol. You can definitely bring alcohol too but we don't want to end up with a bunch of drinks and no food. Strict no mooching policy! :-)
The tailgate is open to all Trojans this week. No wristbands or passes are required. But as always, good behavior is expected.
If you don't meet us at Costco but want to find us later, follow @uscpsycho and @psychogate on Twitter for updates about the exact tailgating location. I will do my best to let people know where we are; hopefully there will be some good landmarks nearby and a solid cellular signal. You can also try dialing **SYCOGATE from a cellphone. I will either answer or you'll get a message with information about where we are. Don't rely on this though because it's going to be largely dependent on what kind of network access I have.
See you there!
FIGHT ON!!!!