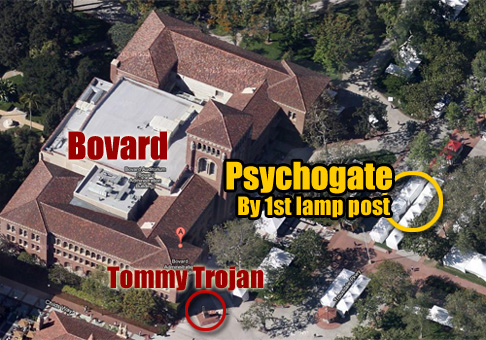 2016 Reboot
If you've been coming to Psychogate for any length of time you know that it has evolved through the years. It has evolved again this year with the biggest changes yet. Please read on for all the details.
Starting this season Psychogate is going back to basics. There will be no TV's, no live webcam, no shot machines, etc. But unlike the last two years there will be no membership of any kind required. When Psychogate started it was the people that made it great, not all the gear. So we're going back to our roots which means the tailgate is once again open to all who come AND bring something to share.
No moochers!
If you want to read about the reasons for the reboot and the downsizing click here.
What is Psychogate?
Psychogate is the longest running, biggest and best fan-run tailgate on campus. We have two 50-inch flat screen TV's, two satellite dishes, USC bar, a Fireball Whisky shot machine, a Jagermeister shot machine, cellphone charging station, live streaming webcam and so much more! It's organized by one of USC's most diehard and well known fans, USC Psycho.
Psychogate is the longest running, biggest and best fan-run tailgate on the USC campus. Psychogate is run by fans for fans and it's all about the Trojan Family. It's where you can go on any USC game day to tailgate with fellow USC fans. All are welcome! Just bring a good attitude and something to share!
Opposing teams' fans are always welcome at Psychogate! If you are visiting USC come to Psychogate and we'll show you some genuine Trojan hospitality. We just ask that if you plan to make Psychogate your gameday destination that you make a contribution to the tailgate (see below).
Psychogate is organized by USC Psycho.
Where is Psychogate?
The tailgate is on the strip of grass in the middle of Trousdale, in front of Bovard Auditorium and about 150 feet north of Tommy Trojan. If you start at Tommy Trojan walk north to the flag poles. Then continue north to the first lamp post past the flag poles. You will find us right by this lamp post.
Starting 2016 we will be on the north OR south side of the lamp post. And don't look for the shot machines. They won't be there.
If you have any trouble finding the tailgate on game day, send a tweet to @USCPsycho or call Roy from a mobile phone by dialing **USCPSYCHO.
When is Psychogate?
For most games Psychogate starts six hours before kickoff. If kickoff is before 1:00 p.m. then the tailgate starts at 7:00 a.m.
Psychogate Code
All fans are welcome to join the tailgate! Yes, that includes opposing fans too! Good sportsmanship is expected from EVERYONE or you'll be asked to leave. Psychogate is about having a good time with good people. If you want to trash talk, do it somewhere else. No exceptions!
No smoking allowed at Psychogate.
Gameday Contributions
We ask all attendees to support Psychogate by bringing something to share. If you aren't sure what to bring you can check #PsychoGate and @psychogate for the up-to-the-minute news and to see if there's anything we are in urgent need of. You can also call **SYCOGATE from a mobile phone. Fireball Whisky and Jagermeister are Psychogate standards and are always a safe bet.
Ice Chests and Chairs
We are not providing as many coolers and chairs as in years past. If you have a cooler we can use, bring it. If you have chairs, bring them.
Ice
We never seem to have enough ice. Ice is always a welcome contribution. And it's cheap too!
Booze, Drinks and Mixers
Bring your favorite drink and some extra to share. We welcome non-alcoholic contributions too, like water, soda and juice!
Grill (Games starting after 3:00 p.m. only)
You are welcome to bring food to cook on the grill but if your food needs to be kept cold please bring your own cooler. No food is to be placed in coolers with drinks under any circumstances (if we find your raw food in our coolers it will be disposed without warning). We may have someone manning the grill or you may have to grill your own food. Please share the grill and treat the grill with respect so that we can all enjoy it for many years.
Munchies
Chips, dips, salsa, guacamole, nuts, veggie trays, sandwiches, cupcakes, whatever. Bring it. We'll eat it.
Stripper Pole
If you want to, we're not going to say no...