PSYCHOGATE BEGINS

6:30 AM ON NOVEMBER 18!
Location:
For 2023 Psychogate is located in the Green Tailgate Lot near the intersection of Figueroa & Martin Luther King Jr. In the map below, the tailgate lot is at the South East Corner.

The tailgate for fucla starts at 6:30am. The exact location of the tailgate within the lot may change from week to week but we are usually in the top-right (North-East) corner of the tailgate lot. Look for the Fireball shot machine to find us. If you have trouble locating the tailgate check @USCPsycho on game day, a pin to the exact location within the Green Lot will be tweeted once we are set up. If you don't have a Twitter account just click on the link above then click on the link in the profile header, on gameday it will be a pin to the tailgate location.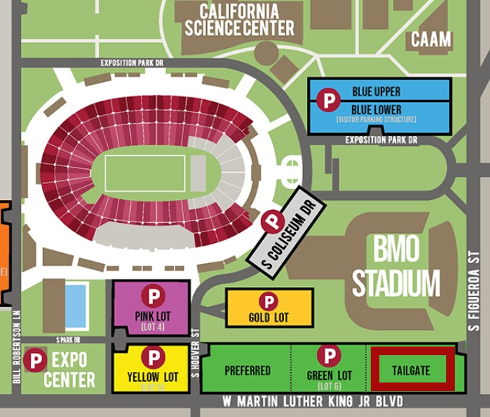 What is Psychogate?
Psychogate is the longest running, biggest and best fan-run USC tailgate!
Psychogate is run by fans, for fans and it's all about the Trojan Family. It's where you can go on any game day to tailgate with fellow Trojans. We have TV, a Fireball shot machine, great food, steaks cooked to order and most importantly lots of great USC football fans! It's organized by one of USC's most diehard and well known fans, USC Psycho.
All are welcome! Just bring a good attitude and something to share!
Kids are welcome to join the tailgate as long as you don't mind if they are exposed to the mature language that they will inevitably hear from adults at a tailgate.
If you would like a killer steak, contact @VicTheMacWizard on Twitter. He will buy, prep and cook your steak to order at the tailgate. Supply is limited so order as early as possible. (Only for games starting after 2:00 PM.)
Opposing teams' fans are always welcome at Psychogate! If you are visiting USC please feel free to join us and we'll show you some genuine Trojan hospitality. We just ask that if you plan to make Psychogate your gameday destination that you make a contribution to the tailgate (see Gameday Contributions below).
When is Psychogate?
HOME: Psychogate always starts six hours before kickoff.
ROAD: If you are attending USC road games there is almost always a tailgate you can join! Details vary from game to game so follow @USCPsycho for tailgate info on gameday.
Psychogate Code
All fans are welcome to join the tailgate! Yes, that includes opposing fans too! Good sportsmanship is expected from EVERYONE or you'll be asked to leave. Psychogate is about having a good time with good people. If you want to trash talk, do it somewhere else. No exceptions!
No smoking/vaping of any kind is allowed at Psychogate.
Gameday Contributions
We ask all attendees to support Psychogate by bringing something to share. If you aren't sure what to bring you can check @USCPsycho for the up-to-the-minute news and to see if there's anything we are in urgent need of. Fireball Whisky, Skrewball and Rumchata are Psychogate staples and are always a safe bet. So is beer and seltzers, bring your favorite brand and some extra to share.
Food
Bring your favorite tailgate recipe, chips, dips, salsa, guacamole, nuts, veggie trays, sandwiches, pizza, wings, sliders, whatever. Bring it. We'll eat it.
Booze, Drinks and Mixers
Bring your favorite drink and some to share. We welcome non-alcoholic contributions too, like water, soda and energy drinks!
Ice Chests and Chairs
We can always use more. If you have a cooler we can use, bring it. If you have chairs we can use, bring them.
Ice
We never seem to have enough ice. Ice is always a welcome contribution. And it's cheap too!
Grill (Only available for games starting after 2:00 p.m.)
You are welcome to bring food to cook on the grill but if your food needs to be kept cold please bring your own cooler. No food is to be placed in coolers with drinks under any circumstances (if we find your food in our coolers it will be disposed without warning). We may have someone manning the grill or you may have to grill your own food. Please share the grill and treat the grill with respect so that we can all enjoy it for many years.
Cash
Hosting tailgates isn't free. There are many expenses and fees associated with hosting this event for every homegame. If you are enjoying yourself at Psychogate please pitch in a few bucks to help cover expenses.
Stripper Pole
If you want to, we're not going to say no...